Who We Are:
Corners Historic Restoration, LLP, founded in 2009, is a contracting business specializing in true historic restoration and woodworking/carpentry fields, while acting with social consciousness to provide key employment opportunities  to at-risk individuals in Central Baltimore. Corners Historic Restoration does not provide 'replacement' services. We take original architectural features of a building or house, and work to restore it to its original condition, preserving as much of the original material as possible. Services are provided to both private residential and commercial projects.
Our Mission:
Preserving History, Restoring Jobs.
Our mission is to provide services to preserve original architectural elements of Baltimore's historic homes, row houses and buildings, while creating job and entrepreneurship opportunities in the trades of historic restoration and preservation.
Corners Historic Restoration is an MHIC licensed, fully-insured contractor and employer in Baltimore City.  We do not discriminate on the basis of age, gender, gender expression, physical disability, sexual orientation, race, or religion.
 "Make Baltimore a quality place to live, AND continue to fight for the rights and justice of populations in need."
– Dennis Livingston
Our Pledge:
• Corners Historic Restoration is committed to the highest quality of craftsmanship in the building trades.
• We commit to the preservation of all things 'old' and valuable in pre-1970s dwellings.
• We commit to renew and restore rather than tear-out and dispose.
• We commit to minimize our carbon footprint, using environmentally friendly materials and methods.
Our Location:
Workshop:
2114 Greenmount Ave.
Baltimore, MD 21218
Mailing Address:
415 E. North Ave.
Baltimore, MD 21202
Phone:
443-388-9641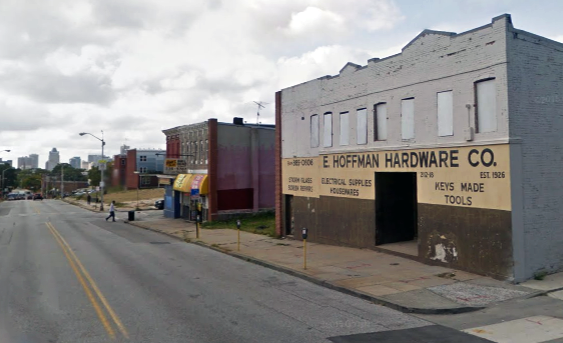 The Corners Historic Restoration Workshop is an unmistakable landmark to the residents around Greenmount Ave.  The old Hardware Store sign is still painted on the front of the building, and sometimes people still ask if we are in stock of this or that type of screw, and if we still cut replacement keys in the shop.  However, the old Hardware store is completely remodeled on the inside as a modern, state-of-the-art window and door restoration factory.  In our shop we clean, restore, re-glaze, and paint your old wood windows to be good as new, and ready for another 50-100 years of wear and tear.